Trading analyst and strategies on USDJPY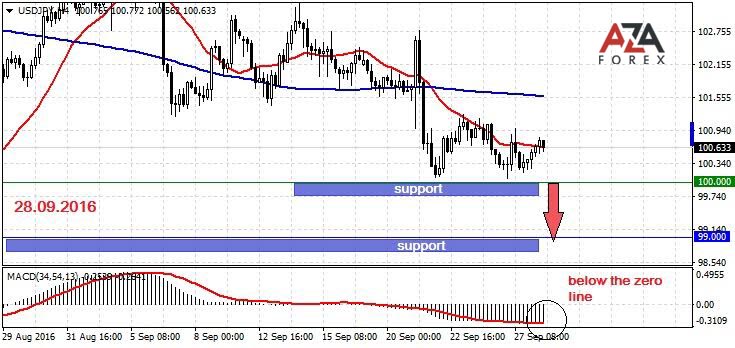 Basic advice to know if you want success in foreign exchange.
US Dollar together with Japanese Yen floats on the waves of FOREX slowly and surely. Strong FOREX storm of currency market are rarely forced to oscillate quotes of Japanese monster. Even now, the chart clearly shows the downward movement, this pair is in no hurry to lower sharply its course. Price came up a few times to smooth the level of 100, and smoothly moved upwards.
If the bears will continue to show their perseverance, the course will undoubtedly fail further down. It can only find support near 99.50 levels and 99.00, where bears have previously received strike back. Therefore, if the foreign exchange market will lower the price of this pair below 100, we sell with the purpose of 100 points.
The price is below a simple moving average 200 MA and 20 MA indicating bearish trend.
The MACD trend indicator is below zero level now, indicating bearish movement.
If the support level is broken you can use the following recommendation:
• Chart timeframe: H4
• The trade recommendation: Sell
•
The level of entry into short position: 100.00
•
The level of profit and close the position: 99.00 (100 pips)
Forex currency pair GBPUSD
Possible bearish movement in the breakdown of the support level 1.2900
Forex currency pair EURUSD
Possible bullish movement in the breakout of the resistance level 1.1240
GOLD
Possible bearish movement in the breakdown of the support level 1321.80
Forex currency pair USDCHF
Possible bearish movement in the breakdown of the support level 0.9680