Trading analyst and strategies on USDCAD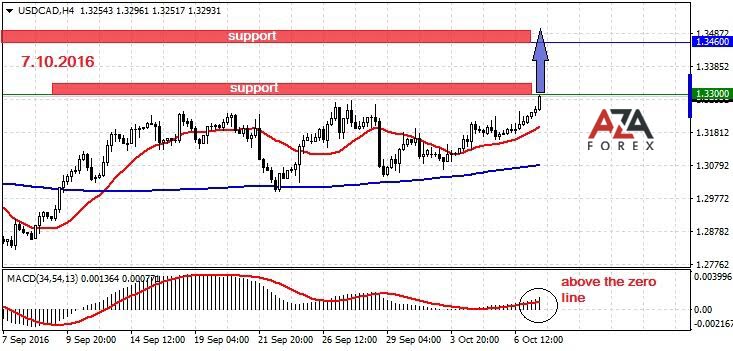 Tips for avoiding an unpleasant run with forex.
The British Pound during the Asian session just dropped down like a stone against all currency pairs that are traded with it. In the Forex market all got insane, puzzling why there was such a sharp and strong fall. Forex brokers see a very strong volatility both in the Asian session, and after the opening of trading in Europe.
At the background of the strong exchange rate changes, we focus on the currency pair of US and Canadian dollar, which in recent times, is in sideways, although previously was a great trending tool. Maybe this shake of Forex currency market can move the flat. Now this pair achieved the 1.3300 resistance level and after passing it the next resistance level will be only in 150 points. Therefore, during the passage of the quotes we open a long position.
The price is above a simple moving average 200 MA and 20 MA indicating bullish trend.
The MACD trend indicator is above zero level now, indicating bullish movement.
If the resistance level is broken you can use the following recommendation:
•
The trade recommendation: Buy
•
The level of entry into long position: 1.3300
•
The level of profit and close the position: 1.3460 (160 pips)
Metal GOLD
Possible bearish movement in the breakdown of the support level 1249
Forex currency pair GBPUSD
Possible bearish movement in the breakdown of the support level 1.2200
Forex currency pair USDCHF
Possible bullish movement in the breakout of the resistance level 0.9830
Forex currency pair EURUSD
Possible bearish movement in the breakdown of the support level 1.1100