Trading analyst and strategies on Tesla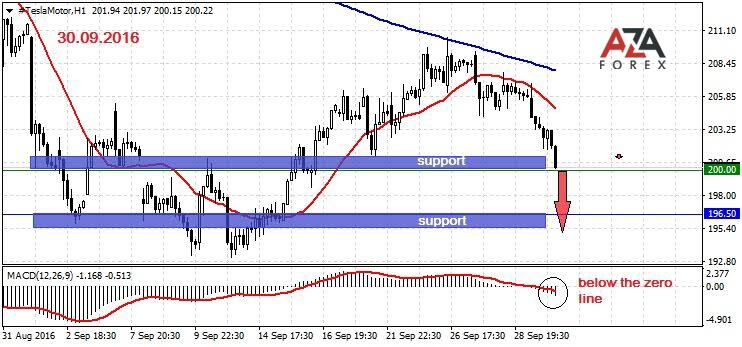 Find ways to succesfully manage your foreign exchange accout.
Shares of leading electric traction car manufacturer Tesla Motors, with all the factors of good business development, began to fall sharply. And many American companies, which shares are traded on the stock exchange, began to lose the positions after the previous rising trend.
But such a strong stock performance of Tesla could not went without attention. Shares were in a downward trend, but they are greatly accelerated and managed to keep only due to the smooth support level of 200 per share. It should be a very close look at the opening of the stock market, how they will conduct themselves. If they drop below 200, we need to sell them for the target of 196.50, where the shares can be supported by the next level of support.
The price is below a simple moving average 200 MA and 20 MA indicating bearish trend.
The MACD trend indicator is below zero level now, indicating bearish movement.
If the support level is broken you can use the following recommendation:
• Chart timeframe: H4
• The trade recommendation: Sell
• The level of entry into short position: 200
• The level of profit and close the position: 196.50 (350 pips)
Forex currency pair GBPUSD
Possible bearish movement in the breakdown of the support level 1.2930
Forex currency pair EURUSD
Possible bearish movement in the breakdown of the support level 1.1160
GOLD
Possible bullish movement in the breakout of the resistance level 1328
Forex
currency pair
USDCHF
Possible bullish movement in the breakout of the resistance level 0.9760