Trading analyst and strategies on Intel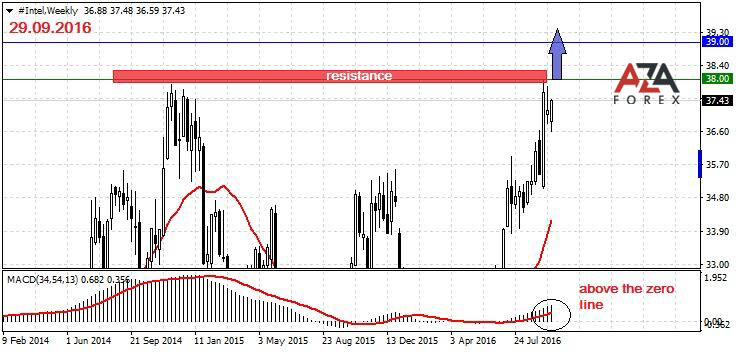 Before investing money in stock share read these tips.
The entire US stock market after the release of positive data economic news is once again in an upward motion. Many shares in the stock market after a drawdown again went up.
Shares of Intel are now at its peak. The stock price has already tasted the historical maximum and will not stop until it will exceed it. Judging the statistics of the movement of shares on the stock market after passing its maximum or minimum price gains additional momentum and changes in price. Here and now we are on the threshold of such an event. The shares have already passed its maximum after which they have nothing to hold except the appetites of investors who are will earn good money at this.
The price is above a simple moving average 200 MA and 20 MA indicating bullish trend.
The MACD trend indicator is above zero level now, indicating bullish movement.
basic advice to know if you want success in stock market.
If the resistance level is broken you can use the following recommendation:
•
The trade recommendation: Buy
•

The level of entry into long position: 38.00
•

The level of profit and close the position: 39.00 (100 pips)
Metal GOLD
Possible bearish movement in the breakdown of the support level 1317
Forex currency pair GBPUSD
Possible bearish movement in the breakdown of the support level 1.2970
Forex currency pair USDCHF
Possible bearish movement in the breakdown of the support level 0.9680
Forex currency pair USDJPY
Possible bullish movement in the breakout of the resistance level 101.80