Trading analyst and strategies on Google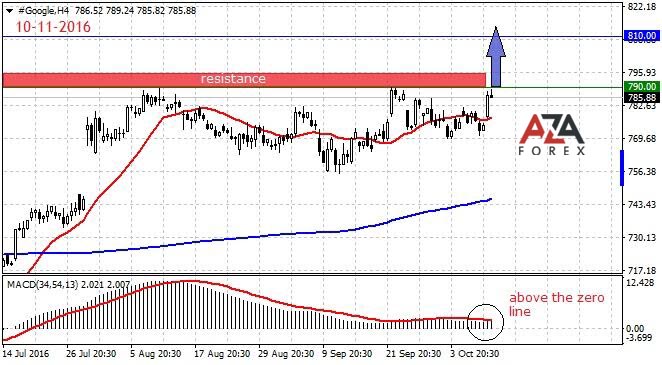 Want to trade like a pro try these tips on trading stocks.
Shares of Google once again came up against the resistance level of 790. If you draw a straight line along the highs, it will turn out as a line of resistance. Such technical issues can only be observed in the stock market shares. The currency pairs in the Forex market do not behave and do not hold the same level of support and resistance.
Thus we see in the graph shares the situation in technical analysis textbook. It's time to put aside an order to the breakdown of the resistance level. Next on the schedule can not see any serious obstacles to the growth of the price of these shares. We set an adequate goal of 2000 points and forward events. Also from this level can be shorts with a very small stop.
The price is above a simple moving average 200 MA and 20 MA indicating bullish trend.
The MACD trend indicator is above zero level now, indicating bullish movement.
basic advice to know if you want success in stock market.
If the resistance level is broken you can use the following recommendation:
•
The trade recommendation: Buy
•
The level of entry into long position: 790
•
The level of profit and close the position: 810 (2000 pips)
Metal GOLD
Possible bearish movement in the breakdown of the support level 251
Forex currency pair GBPUSD
Possible bearish movement in the breakdown of the support level 1.2240
Forex currency pair USDCHF
Possible bullish movement in the breakout of the resistance level 0.9880
Forex currency pair USDJPY
Possible bullish movement in the breakout of the resistance level 104.20