Day trading strategies on GBPUSD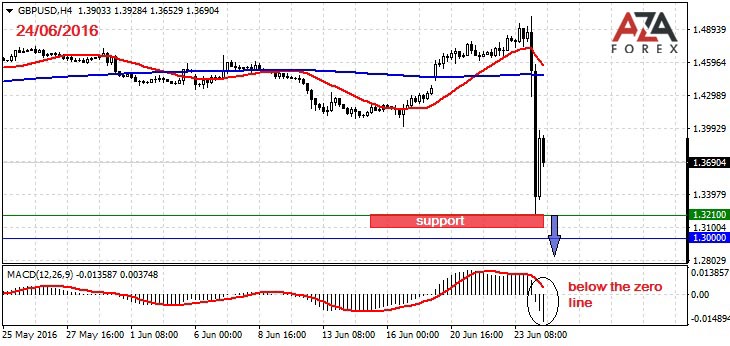 Have you heard about
forex
you could be
making money online easily
.
Results of
Brexit referendum
in the UK shocked
forex market
and
trading floors
all of the world. Such abrupt changes of the course of
currency pairs
did not happen for a long time. These volatile movements provide an excellent opportunity to
earn money
in a very short period of time. Suffice it to sit on the trend and ride it to the end of the day.
British Pound
has fallen historically. Such movements point to strong emotion traders and investors wary. After such a sharp collapse of quotations of
currencies
you can always count on the second tick on the chart.Therefore, if the stock market will remain in pessimistic mood on the British pound, we will open a short position on a break of support level and join the Bears.
The price is below a simple moving average 200 MA and 20 MA indicating bearish trend.
The MACD trend indicator is below zero level now, indicating bearish movement.
If the support level is broken you can use the following recommendation:
• Chart timeframe: H4
• The trade recommendation: Sell
•
The level of entry into short position 1.3210
•
The level of profit and close the position: 1.4100 (100 pips)
Forex currency pair USDCHF
Possible bullish movement in the breakout of the resistance level 0.9800
Forex
currency pair
EURUSD
Possible bearish movement in the breakdown of the support level 1.1090
GOLD
Possible bullish movement in the breakout of the resistance level 1358
Forex
currency pair USDJPY
Possible bearish movement in the breakdown of the support level 98.80