Day trading strategies on GBPUSD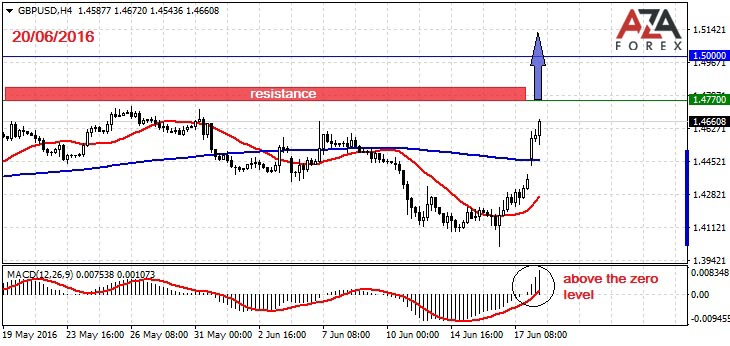 Forex trading
techniques can be quite helpful.
The
British Pound
ahead of the
Brexit referendum
on British exit from the
European Union
only became more expensive. For all
currency pairs
on the
Forex market
, which are crosses with the
Pound
, the rise of the
British currency
. . The attention of all
traders
and
investors
are now focused to the future results of the referendum. On
exchange rates
can seriously affect the result of the referendum, will be increased volatility and increased
margin requirements
for all
Forex brokers
. How will the British currency is not known to anyone, but judging by the growth on the
charts
, we can assume that traders are quite optimistic. Therefore, if the pair get out of range and will be able to overcome the resistance level 1.4770, we open a long position and will remain there until a strong resistance level 1.5000
The price is above a simple moving average 200 MA and 20 MA indicating bullish trend.
The MACD trend indicator is above zero level now, indicating bullish movement.
If the resistance level is broken you can use the following recommendation:
• Chart timeframe: H4
• The trade recommendation: Buy
•
The level of entry into long position: 1.4770
•
The level of profit and close the position: 1.5000 (130 pips)
Metal
GOLD
Possible bullish movement in the breakout of the resistance level 1276
Forex
currency pair
USDJPY
Possible bearish movement in the breakdown of the support level 104.00
Forex
currency pair USDCHF
Possible bearish movement in the breakdown of the support level 0.9570
Forex currency pair
EURUSD
Possible bullish movement in the breakout of the resistance level 1.1380