Trading analyst and strategies on GBPNZD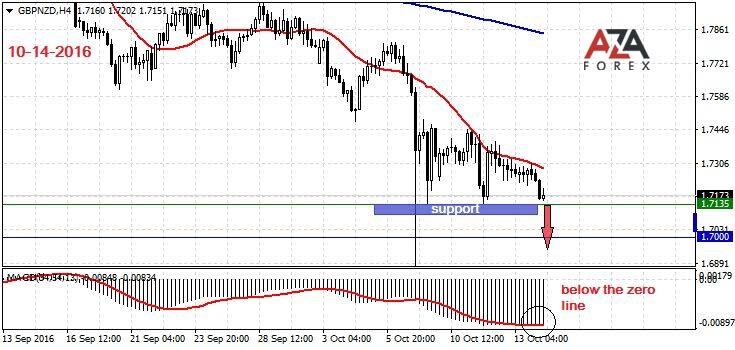 Changing money to make money some foreign exchange secrets.
British Pound still can not come out of the downward movement. If other currency pairs in the forex market were able to deal with it, Pound can not. On the chart of the currency pair is seen that it is the third time coming to the level of support, and every time it bounces off not for a long distance.
If you look at a larger time scale, we can see that there are no less than the strong levels of support that can be useful to traders and investors, trading in the downtrend. As long as there is no any fundamental data on the British economy, which could help the Pound to stop and get out of this peak. So, coming through the level of 1.7135 we open short position. At the level of 1.7000 the pair might find support, because such smooth levels accumulate a large number of various orders.
The price is below a simple moving average 200 MA and 20 MA indicating bearish trend.
The MACD trend indicator is below zero level now, indicating bearish movement.
If the support level is broken you can use the following recommendation:
• Chart timeframe: H4
• The trade recommendation: Sell
•
The level of entry into short position: 1.7135
•
The level of profit and close the position: 1.7000 (135 pips)
Forex currency pair GBPUSD
Possible bearish movement in the breakdown of the support level 1.2160
Forex currency pair EURUSD
Possible bearish movement in the breakdown of the support level 1.1000
GOLD
Possible bearish movement in the breakdown of the support level 1250
Forex currency pair USDCHF
Possible bullish movement in the breakout of the resistance level 0.9900