Trading analyst and strategies on GBPNZD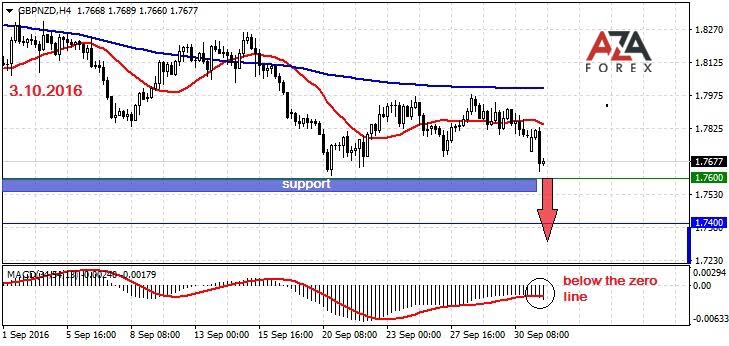 Want to trade like a pro try these forex tips.
The British Pound was still weak. And whatever he did, as if he did not help large investors and state funds, the pound will continue to fall.
We see on the charts on all currency pairs with which traded Pound weakness. With some of the more exotic crosses pound long ago I flew down. And now the British Pound came to the level of strong support, followed by the further fall, he has nothing to help. What good this currency pair that has a very large potential stroke and oscillation amplitude. Even with a small risk can catch a powerful movement. Thus the ratio of profit to a loss many times. Such options fit well in risk management. Therefore, the breakdown of this strong level of open short position on the pound.
The price is below a simple moving average 200 MA and 20 MA indicating bearish trend.
The MACD trend indicator is below zero level now, indicating bearish movement.
If the support level is broken you can use the following recommendation:
• Chart timeframe: H4
• The trade recommendation: Sell
•
The level of entry into short position: 1.7600
•
The level of profit and close the position: 1.7400 (200 pips)
Forex currency pair GBPUSD
Possible bearish movement in the breakdown of the support level 1.2840
Forex currency pair EURUSD
Possible bullish movement in the breakout of the resistance level 1.1250
GOLD
Possible bearish movement in the breakdown of the support level 1313
Forex currency pair USDCHF
Possible bullish movement in the breakout of the resistance level 0.9760