Trading analyst and strategies on GBPJPY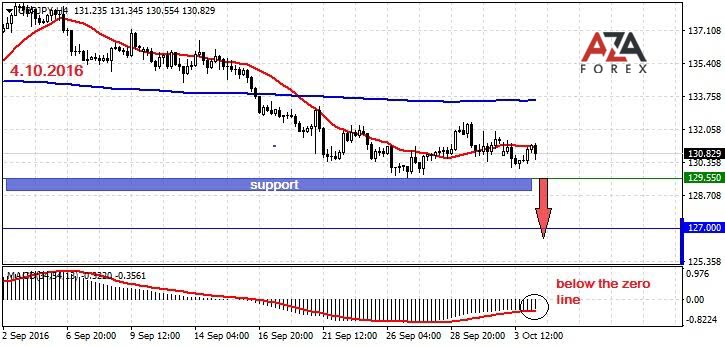 Tips for avoiding an unpleasant run with forex.
The British Pound gave a leak, and the ship went to the bottom. If we look at the charts of currency pairs in the Forex market are traded in pairs with the Pound, we will see that everywhere have begun a downward trend.
Only this currency pair is still afloat. Usually, the same delayed reaction, and they give the opportunity to those traders who do not have time to go to the market, or which have already opened on the pound short positions to add the asset to your investment portfolio. This is a good opportunity to put all the necessary pending orders on the trading terminal of the Forex broker, with good probability for a positive outcome of speculative transactions. So when the price below the support level open a short position.
The price is below a simple moving average 200 MA and 20 MA indicating bearish trend.
The MACD trend indicator is below zero level now, indicating bearish movement.
If the support level is broken you can use the following recommendation:
•
The trade recommendation: Sell
•
The level of entry into short position 129.55
•
The level of profit and close the position: 127.00 (255 pips)
Forex currency pair GBPUSD
Possible bearish movement in the breakdown of the support level 1.1275
Forex currency pair EURUSD
Possible bearish movement in the breakdown of the support level 1.1160
GOLD
Possible bearish movement in the breakdown of the support level 1306
Forex currency pair USDCHF
Possible bullish movement in the breakout of the resistance level 0.9790