Trading analyst and strategies on EURNZD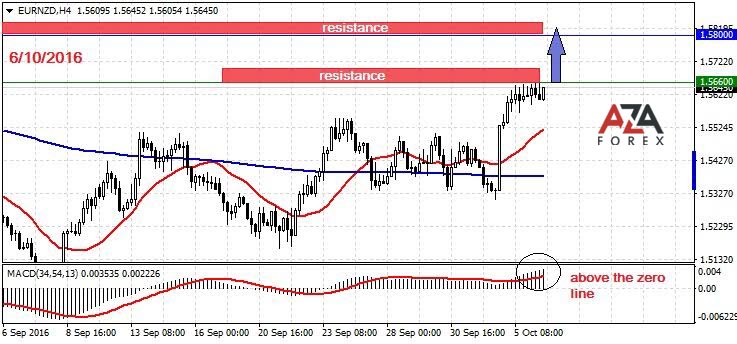 Simple tips for a successful foreign exchange strategy.
The euro exchange rate began to rise after a strong news at the Forex market. Many currency pairs after a shake-up does not determine the direction, only the British pound still can not get out of the downward trend. I favour of Euro also that New Zealand dollar has week position, which will facilitate the way of Euro to new heights.
At the level of 1.5800 euro may meet strong resistance, because earlier this level has already been a strong support, and now can prevent further growth of the rate. Just do not forget that, in a global sense, this currency pair is still in a downtrend, so the goal is not large, and is calculated at the end of correction. Therefore closely follow the development of the dynamics of the currency pair and adequately respond, if the price will stop.
The price is above a simple moving average 200 MA and 20 MA indicating bullish trend.
The MACD trend indicator is above zero level now, indicating bullish movement.
If the resistance level is broken you can use the following recommendation:
•
The trade recommendation: Buy
•
The level of entry into long position: : 1.5660
•
The level of profit and close the position: 1.5800 (140 pips)
Metal GOLD
Possible bearish movement in the breakdown of the support level 1261
Forex currency pair GBPUSD
Possible bearish movement in the breakdown of the support level 1.2650
Forex currency pair USDCHF
Possible bullish movement in the breakout of the resistance level 0.9800
Forex currency pair EURUSD
Possible bearish movement in the breakdown of the support level 1.1170